Experts' Rating
8.9/10

Pros
Easy navigation. Handicappers contests, free props and daily games.

Cons
Less generous referral program than other websites. 10x rollover on bonuses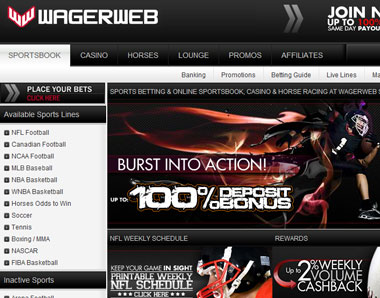 Wagerweb is one of the largest online sportsbook sites operating on the internet today. Since their inception in 1997 they have processed more than 32 million wagers on sporting events. They aim to provide a secure environment for bettors and an unsurpassed level of customer service. Open an account and take advantage of their unique progressive and referral bonus programs.
OPENING YOUR WAGERWEB ACCOUNT
The Wagerweb registration form is one of the simplest of any online sportsbook, and you can complete it in less than two minutes. After a quick display of your profile as a confirmation you are ready to make a deposit. Or if you prefer you can dial 1-888-GO4BETS and open your account over the phone just as quickly.
SOFTWARE
Wager web operates under ASI and other related software provided by their parent company, Casablanca Gaming who also encompass several other major european sportsbooks. Portions of their programs may also be running products from Digital Gaming Software.
BETTING LIMITS
Betting limits range from $500 to $2000 except for some of the more exotic props. Take a look at the Wagerweb "Betting Limits/Post times" portion of the Sports Betting Guide for a complete listing of limits broken down by sport and bet type.
SPORTS
Wagerweb gained notoriety by offering odds on the winner of TV's American Idol contest but their sports wager options rival those of any other major sportsbook on the web. You can bet on Football and Basketball, both pro and NCAA as well as hockey, major league baseball, tennis, boxing and just about any other sport you can think of. Typically they will offer both point spread and moneyline wagers, quarter and halftime sides and totals, periods and futures. They even have some fantasy contests for NASCAR and PGA golf outings.
BONUSES
The folks at WagerWeb have become known for some of the more creative promotions in online sportsbetting. The reload bonuses are progressive, culminating with a 30% free play on your 5th deposit and all subsequent deposits as well. The referral bonuses are some of the highest we have seen.
PROMOTIONS
Some of Wagerweb's more attention grabbing promotions are their rewards packages which give you prizes based on points earned from placing wagers. The rewards include a whole range of electronics like computers, camcorders and plasma TV's as well as tickets to a huge array of sporting events. Cash back is also popular, and you can get up to 2% back on your weekly volume if you bet at the sportsbook.
SUPPORT
of Wagerweb's better features is the live help available by clicking a link at the top of their web page. You can contact customer service, new accounts, or even ask for any one of the sales associates by name.
If you have any technical questions about the site, the "sports betting guide" can tell you about wager rules, wager types and strategies. It even gives a full tutorial on how to place single wagers, parlay bets and teasers, conditional and reverse wagers, futures and props.
The Wagerweb/Casablanca office has staff available for phone consultation 24/7 every day of the year. The support agents are knowledgeable and resourceful, and all your Email requests are responded to quickly and courteously.