Experts' Rating
9/10

Pros
Solid payment options, Affiliated with CRIS group, Opinionated lines.

Cons
Modest bonuses, Improving website.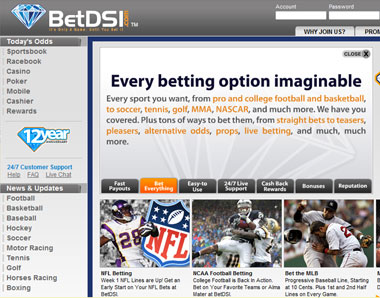 The cynical among us would say that a leopard never changes its spots (or those favoring horse metaphors over cat metaphors would state a zebra never changes its stripes).
Whatever metaphor for change you want to use, BetDSI.com is an exception to that rule. Once colored by scandal and improprieties, the sportsbook did indeed change when it was purchased/merged/affiliated with the well-respected CRIS group of companies.
Where complaints and negative sportsbook forum banter abounded in 2002-2004, that all changed. Today, BetDSI.com gets mentioned among the Internet's elite sportsbooks.
It's a testament to the integrity and pervasive strength of the CRIS/Bookmaker.com name that Diamond Sportsbook not only survived but has thrived. That's for anyone who doesn't subscribe to the theory that solid ownership and professional management are niceties and not business essentials.
Today, Diamond Sportsbook International benefits from the technical and customer service excellence and foundation afforded by the CRIS infrastructure in Costa Rica, while maintaining its own creative bonuses and unique sports odds.
An improved website (it could use some more refinement for sure) and effective payment processing makes getting in to play and getting winnings out extremely efficient. The CRIS-powered loyalty program provides the customer perks that keep customers happy and accumulating more reasons to stay and play.
DSI has shed its rough reputation and polished it to become one of the safest and best sportsbooks.