Experts' Rating
9.3/10

Pros
Industry-leading bonuses, Loyalty program and great perks, Top-notch website, Enhanced focus on customer support.

Cons
Improving history of customer service issues, The withdrawal rules and fees are a bit confusing.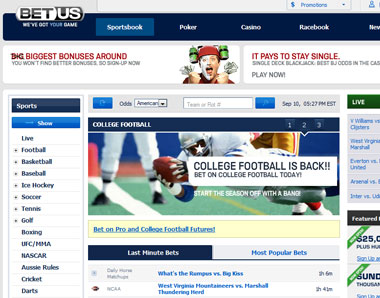 New management and fair customer service can go a long way to rehabilitating a brand's image.
After early days plagued by complaints of slow paying and failing to honor player wins, BETUS.com has slowly earned back industry and player trust.
The company made a concerted effort to hire respected marketing, customer service and management folks away from some other firms and the new team has been effective in two ways: ensuring BetUS.com is a safe and fair place to play and in improving its overall image in the industry after emerging from its Little NASA skin around 2001.
BetUS.com and its predecessor brands have been in the space since 1994, so you are certainly not dealing with a fly-by-night operation. And affiliated brands that did more to detract from the overall success of the company rather than enhance it (including BetReduction.com and OmniSportsbook.com) are now gone.
It has allowed the company to have a singular focus on BetUS.com and to focus its management talents in one area. The result has been predictable – solid site, improved reputation, far fewer complaints.
First-time visitors have the comfort of arriving at a site that is professionally laid-out, well-organized and easy to navigate. What new players won't know is how BetUS.com's reputation in the industry has grown into one where you earn the most generous bonuses and enjoy the widest (and best) array of member perks, ranging from monthly stats and odds publications to professional swimsuit DVDs and more.
What do swimsuits have to do with sports wagering? Nothing, it's just another nicety the company offers up in his marketing effort to remain top of mind for its clients.
Ditto the clear layout of and access to thousands of wager types and the continued growth and style of the website itself, which ranks among the industry's best.
Members of BestSportsbooks.com have experienced some of the same problems in the past that have plagued customers – slow pays, vendor disputes. The overall picture is that BetUS.com offers a valuable and complete user experience (with horses, poker and casino and contests) which currently earns it a Top 10 placement in our rankings.